Reheat Furnaces
A reheating furnace's main function is to reheat semi-finished steel to 1100°F - 1250°F. The steel will then be shaped in the hot rolling mill. Resco's products are key in improving and maintaining the efficiency of reheating furnaces.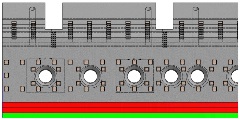 Resco Products will recommend the most suitable product to meet your quality standards. Resco provides a full range of refractory products designed to withstand abrasive solids, gases at high temperatures, and prevent heat loss.
Common Resco products utilized in a reheat furnace consist of QuikTurn 60G, Kricon 32-70, & Alumex P-85-HS.