Basic Oxygen Furnace (BOF)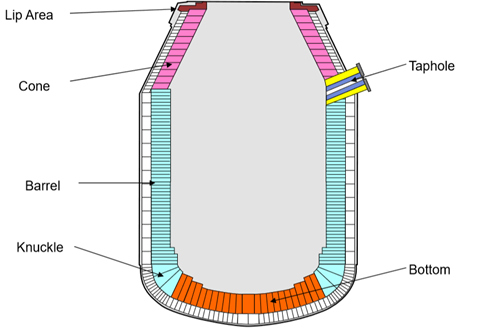 Since 2000 Resco Products has been one of the leading producers of Basic Oxygen Furnace (BOF) refractories in North America. Resco Products understands the detail it requires to create a BOF that stays in service. Safety and working refractory linings are designed to achieve the customer's goals. Variable compositions or shapes of differing lengths or geometries are optimized for your melting point and basic oxygen steelmaking.
Refractories for BOF Vessel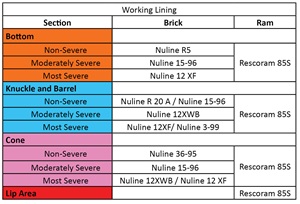 Resco can produce burned and burned, tar-impregnated compositions as well as a resin-bonded refractory material. The safety linings designed for today's barrel and cone sections are typically for a single campaign. The bottom of the BOF vessel can be designed for many years of service.
The refractory working lining must be designed to meet each unique process. Resco's BOF solutions provide exceptional integrity for the life of the vessel. The design must be balance so wear is uniform and gunning maintenance is kept minimal at high temperatures.
BOF vessels can range from 90 to 300 tons. The life of BOF refractory can vary greatly depending on factory practices. Common working lining brands are
Nuline 12XF
and
Nuline 12XWB.